John — December 16, 2007, 9:33 pm
I just made a loan to someone in the developing world using a revolutionary new website called Kiva.
You can go to Kiva's website and lend to someone in the developing world who needs a loan for their business – like raising goats, selling vegetables at market or making bricks. Each loan has a picture of the entrepreneur, a description of their business and how they plan to use the loan so you know exactly how your money is being spent – and you get updates letting you know how the business is going. The best part is, when the entrepreneur pays back their loan you get your money back – and Kiva's loans are managed by microfinance institutions on the ground who have a lot of experience doing this, so you can trust that your money is being handled responsibly.
I just made a loan to an entrepreneur named Gulmakhmad Murodov in Tajikistan.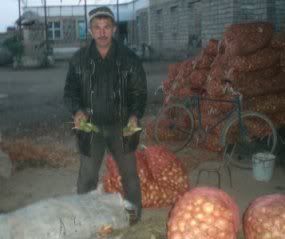 "Mr. Murodov is in the business of vegetable selling (onion, potato, carrot and etc). He has a direct supplier, which allows her to sell rice at a price that is lower than the bazaar price. He is very polite which is why he has permanent clients who want to buy only his goods. Gulmakhmad Murodov is very experienced in the business."
I liked what I read about the person requesting the loan, as well as the local Field Partner that was helping him get the loan, so I decided to make him a $25 loan for business development and expanding his inventory. ($25 per loan is the current maximum loan per person – but this is only temporary.) The Kiva site has been getting a TON of great press lately on TV and in books, so they put this limit in place to allow more people to participate until they can get more businesses to help.
To view the details on the loan I just made, as well as all future loans I make, visit my Kiva.org Lender Page.
I saw the Kiva site mentioned on a monthly business program a few days ago and was just blown away by the simplicity and amazing benefits of the program. It's finally easy to actually do something about poverty! Using Kiva I know exactly who my money is being loaned to and what they're using it for. And most of all, I know that I'm helping them build a sustainable business that will provide income to feed, clothe, house and educate their family long after my loan is paid back.
I made my first loan today and when I'm paid back (in this case in 3 months) I plan to re-loan my money to someone else. Though odds are I'll be back to make another loan before then anyway.
Please join me in changing the world… one loan at a time.
Love, light, joy
John Martel
Here is one of the current businesses in need of a micro-loan.
What others are saying about Kiva.org:
"An inexpensive feel-good investment opportunity…All loaned funds go directly to the applicants, and most loans are repaid in full."
– Entrepreneur Magazine
"If you've got 25 bucks, a PC and a PayPal account, you've now got the wherewithal to be an international financier."
– CNN Money
"Smaller investors can make loans of as little as $25 to specific individual entrepreneurs through a service launched last fall by Kiva.org."
– The Wall Street Journal
"Revolutionising how donors and lenders in the US are connecting with small entrepreneurs in developing countries."
– BBC
No Comments
RSS feed for comments on this post.
No comments yet.
Sorry, the comment form is closed at this time.