John — July 27, 2007, 1:47 pm
A few days ago we had a rather quick but intense rain shower. After it ended I went out to run some errands and as I drove by a small shopping plaza, I saw a large puddle in the middle of the parking lot. And in that puddle I saw 5 teenagers jumping like they were 5 years old.
Hmm, sadly I guess, I was probably pretty young the last time I jumped in a puddle. Sure, the parents probably never approved, but it sure was fun, wasn't it? No, I didn't stop to join those kids, but I can tell you it sure brought a smile to my face.
Unfortunately, I didn't have my camera with me, but I was able to find a few similar pictures online.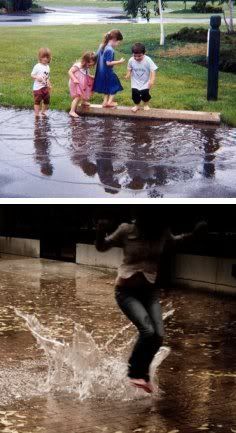 Always remember to have fun, stay young and enjoy life. The dolphins get to jump in huge puddles (rivers and oceans) every day. Boy, they sure are lucky!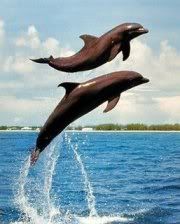 I originally posted this on my Human Healing MySpace page about a week ago and was quite frankly blown away by the amount of messages and comments I got from it. I'm touched by the feedback and stories. Please feel free to leave a comment below and share you story with others.
Have a blessed weekend!
John
No Comments
RSS feed for comments on this post.
No comments yet.
Sorry, the comment form is closed at this time.