John — July 31, 2007, 8:15 pm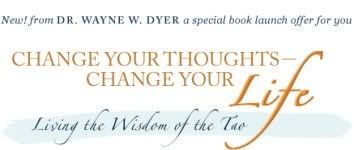 Whether it's a financial crisis, a family issue, a troubling illness or addiction, a distressing obstacle at work, or a problem in your relationship, you can have access to a solution for every difficulty you face.
The New York Times #1 best-selling author and world-renowned inspirational teacher, Dr. Wayne Dyer has discovered the secrets to achieving a way of life that guarantees integrity, joy, peace, and balance, and he reveals these to you in his newest book, Change Your Thoughts — Change Your Life.
And the best part: You'll be startled by how simple it is to use these secrets.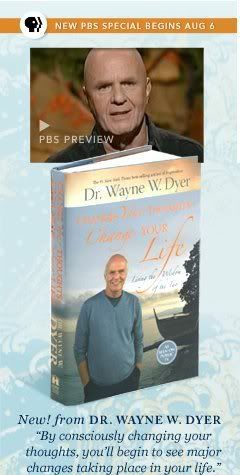 (Video preview available at link below.)
"This is by far one of the most powerful books Wayne Dyer has ever written. He tells it like it is, plain and simple. We do not need to fix problems; we need to fix our thinking. That's all."
– Louise L. Hay
Best-selling author and one of the founders of the self-help movement.
Eliminate the struggles of your life and win a trip to Maui to see Wayne Dyer in person! Get all of the details at this
Hay House page.
And there's more! Hay House has also created a package of incentives from a collection of best-selling authors, all yours when you make the decision to turn your life around and forever change your perception with Wayne's Change Your Thoughts — Change Your Life.
The inspirational gifts you'll receive with this offer are from like-minded leading visionaries and teachers who are excited to be sharing this with you, such as:
Louise L. Hay, Deepak Chopra, Esther & Jerry Hicks, Byron Katie, Peggy McColl. Dr. Christiane Northrup, John Holland, Marianne Williamson, Loretta LaRoche, DailyOm.com, ConsciousOne.com, Mary Robinson Reynolds and many more!
Buy the book at BN.com or from Amazon.com
Then go back to the special Hay House page to claim your bonuses.
No Comments
RSS feed for comments on this post.
No comments yet.
Sorry, the comment form is closed at this time.